Letter R Worksheets for Preschoolers
If you're looking for the best letter R worksheets for preschoolers, you're in the right place! I have some great free printable worksheets for you. And I'll also give you my teacher insights on how to best help your child learn to identify R, write R, and use R's letter sound.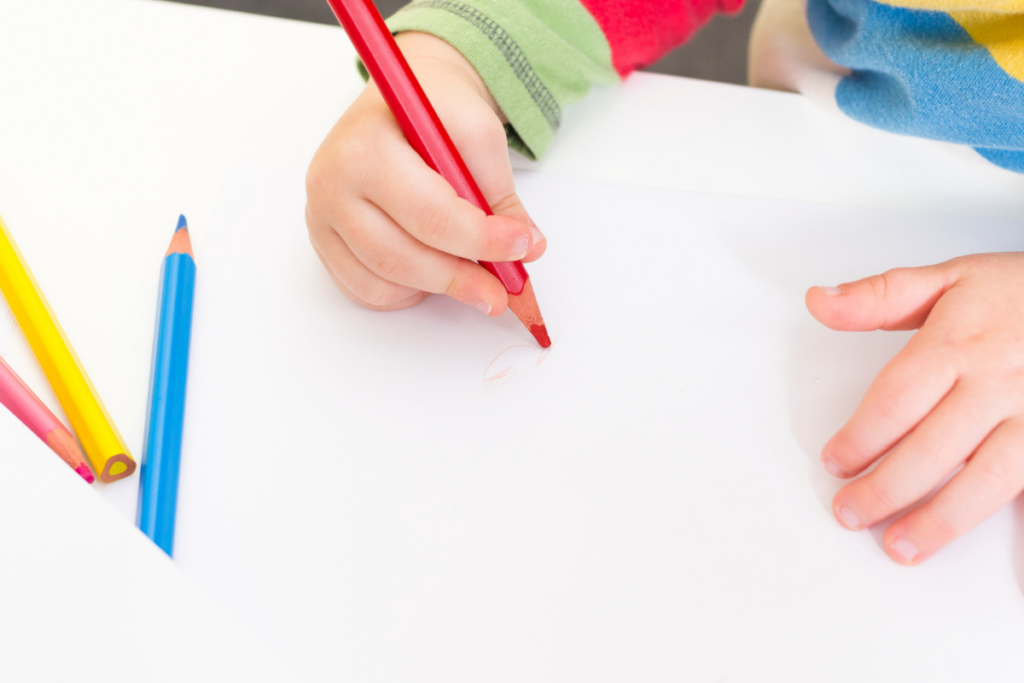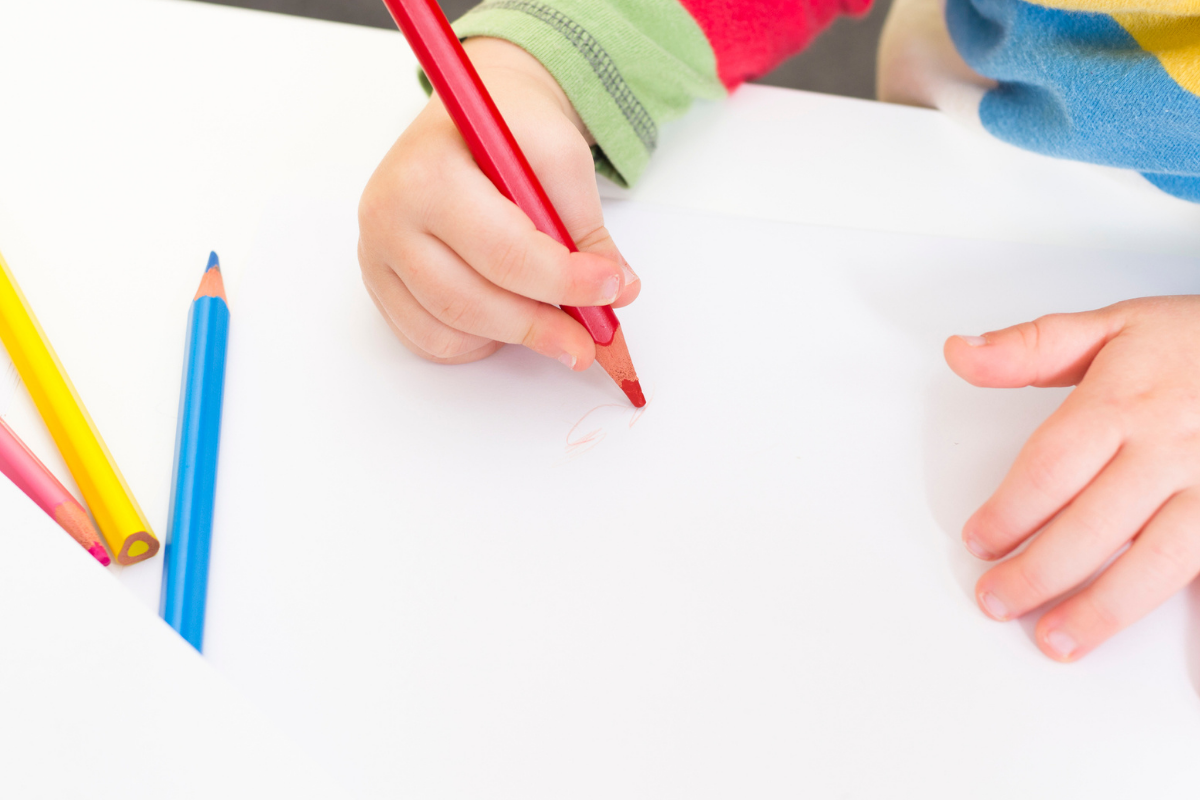 Alphabet worksheets can be a fun way to help your child learn a new letter. You just want to be sure that you're teaching your child the right skills in the right way, and that's what this guide will help you do.
If you want to skip ahead, you can download your free Meet the Letter R Activity Book here.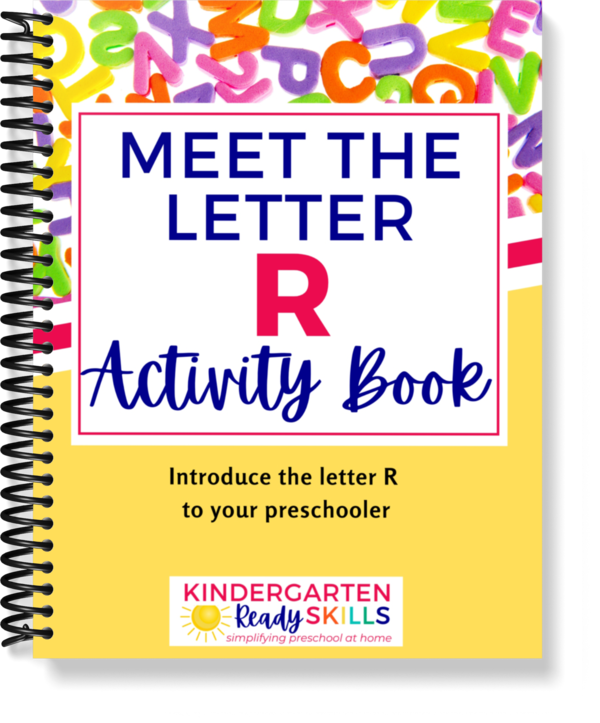 Get the free
Letter R Activity Book
UPPERCASE AND LOWERCASE R
With all letters, you want to be sure to practice both uppercase R and lowercase r.
Preschoolers should see both versions of the letter next to each other often.
Sometimes parents can focus heavily on capital letters, but really lowercase letters are more common.
It's important for our children to know both.
The worksheets in the free Meet the Letter R Activity Book include both uppercase and lowercase R.
LOWERCASE r
The good news about lowercase r is that it's very easy to write. It's also fairly easy to identify.
When writing lowercase r, you'll want to have your child start on the middle line, make a straight line up from the bottom and then come back up for the short line across.
It's best to teach children the correct ways to use uppercase and lowercase letters right from the start. Be sure to do this when you're writing words for them.
So, if you're writing a word like robot, use a lowercase r.
UPPERCASE R
Uppercase r can be a little trickier to write than it's lowercase version because of the curved line around.
It's still fairly easy, and your child will be writing capital letter R soon with practice.
Again, you'll want your preschooler to start with the straight line down, come back up for the curve and then out for the short diagonal line.
ALPHABET WORKSHEETS
I like to really explain how to use to resources I give you.
Here's a deep dive into the worksheets that come in the Meet the Letter R Activity Book.
This free activity book is designed to introduce your child to the letter r.
It's perfect for when your child is getting started with letter recognition.
Here are the activities included: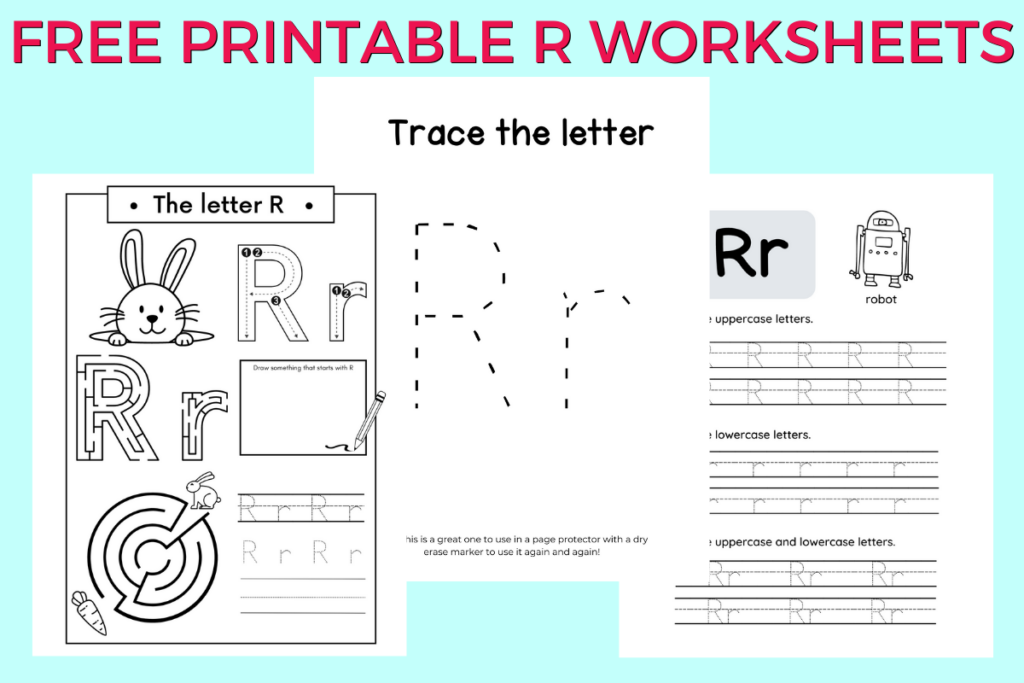 The Meet the Letter R Activity Book includes activities for both the uppercase letter and lowercase letter R.
Here's what you'll get:
Letter R Tracing Worksheets
Coloring Pages
Letter R Sound Activities
Letter Identification for R
More practice pages!
Tip: I like to put the tracing sheets inside a page protector and keep them in a ring binder. Then, I let the child use a dry erase marker to do the letter tracing worksheets.
It's just a great way to be able to use them again and again without having to print a new copy each time.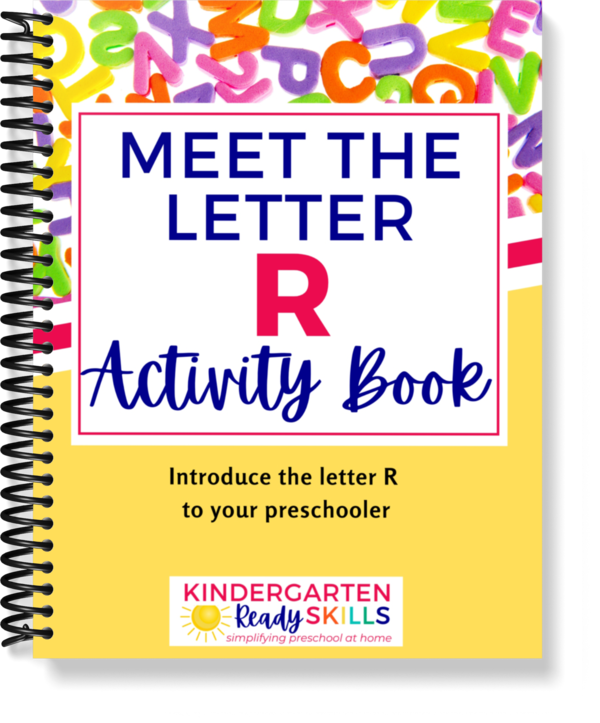 Get the free
Letter R Activity Book
The free preschool printables in the Meet the Letter R Activity Book would also be perfect for your letter of the week education activities if that's something you're working on.
The best way to take this further and help them master the letter R (and the other letters of the alphabet too), you'll want to use the Ultimate Alphabet Learning Kit.
Over 10,000 families have loved using the Ultimate Alphabet Learning Kit to teach their preschooler letter skills.
LETTER R IN THE ULTIMATE ALPHABET LEARNING KIT
I'm so excited to show you around inside the letter R packet in the Ultimate Alphabet Learning Kit!
Here's a peek inside:
This is a truly comprehensive resource for teaching your child to identify R, write R, and use R's letter sound.
And it's not just for R, by the way. It will be your go-to resource for every letter A-Z.
Each letter packet begins with page called tips from a teacher. It really guides your through everything you need to know to best introduce that specific letter to your child.
Letter R is pretty straightforward but some letters are very tricky with many sounds and the tips from a teacher page will guide you to know which sound you should teach your child first.
IDENTIFYING LETTER R IN THE ULTIMATE ALPHABET LEARNING KIT
Here's a peek at the letter R activities for recognizing R and learning its name in the Ultimate Alphabet Learning Kit.
There are some letter R posters, some search and find activities for both uppercase and lower case r and a fun one to color the dog's letter path with all the R's to get it to its doghouse.
R LETTER SOUND IN THE ULTIMATE ALPHABET LEARNING KIT
Along with all the guidance on how to teach the R sound, you'll also get letter R sound puzzles, letter sound match and reading practice for words that start with the R sound.
There's even an alphabet book for R (and all other letters) that will help your child practice early reading skills.
WRITING LETTER R IN THE ULTIMATE ALPHABET LEARNING KIT
There's R letter tracing, letter coloring and a play dough mat to help your child learn how to form letter R.
PRESCHOOL WORDS THAT START WITH R
Since R is one of those few beautifully easy letters that only make one sound, you could really choose any word that starts with R with your preschooler.
But I like to choose words that appeal to our preschoolers to get them interested in our learning activities. It's a great way to get our young children excited about what they're learning.
It's also best to choose words that are easily represented by pictures.
Here are some great letter r words for preschoolers:
rainbow
robot
rock
rake
rain
rose
ring
red
What about cursive letter r worksheets?
Do not worry about cursive with preschoolers. Some philosophies believe in introducing cursive right along with print letters for preschoolers.
But if we're talking strictly about what a child needs to know to be prepared as kindergarten students, they do not need to know cursive letters.
TEACHING THE LETTER R TO PRESCHOOLERS
Now you know just about everything about the letter R and you're ready to go off and teach it to your preschooler!
Start by downloading your free Meet the Letter R Activity Book to introduce the letter! Then you'll want to upgrade to the full Ultimate Alphabet Learning Kit when you're ready.
Happy letter learning!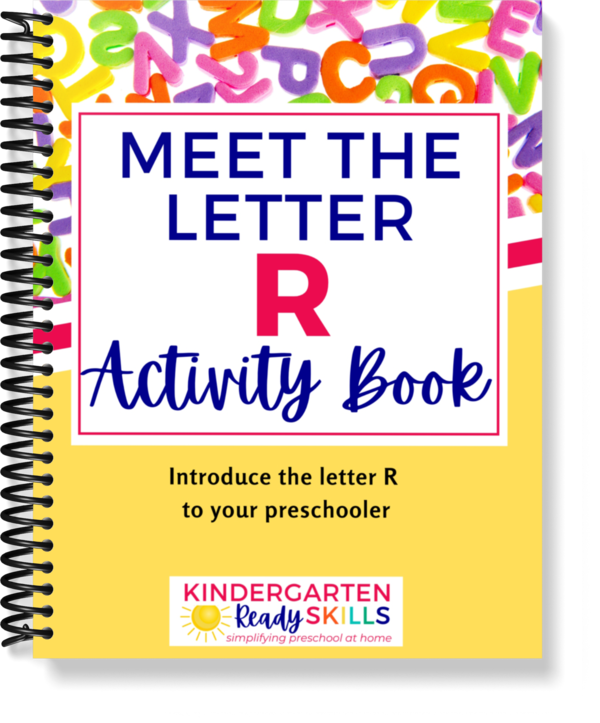 Get the free
Letter R Activity Book
Want more free printable activities for preschoolers?
Best Worksheets for Preschooler for Numbers