Best Worksheets for Preschoolers for Numbers
When it comes to preparing our preschool little ones for school, we always think of learning math facts, learning the alphabet, and learning how to follow directions. We can easily combine all three into some super fun activities with worksheets for preschoolers numbers and games for number work.
I have some great teacher designed worksheets for you in this Free Preschool Numbers Activity Book and in this post I'll walk you through everything you need to know to help your child build up their preschool number skills.
WHY IS LEARNING NUMBERS SO IMPORTANT FOR PRESCHOOLERS?
Our preschoolers absolutely need a foundation in math. The first stepping stone is learning numbers, practicing number words, and number sense skills.
Math is probably the subject that builds most upon itself over time. Therefore, it is super important that our little ones start early to build a basic foundation in math.
The first math skill our kiddos need to learn is what numbers are and how to count things.
Little ones can start counting things so young. My almost 2 year old already has parts of number order stuck in her head (even though there isn't real meaning behind those numbers yet!)
It's a great idea to start building up those number sense skills as young as you can.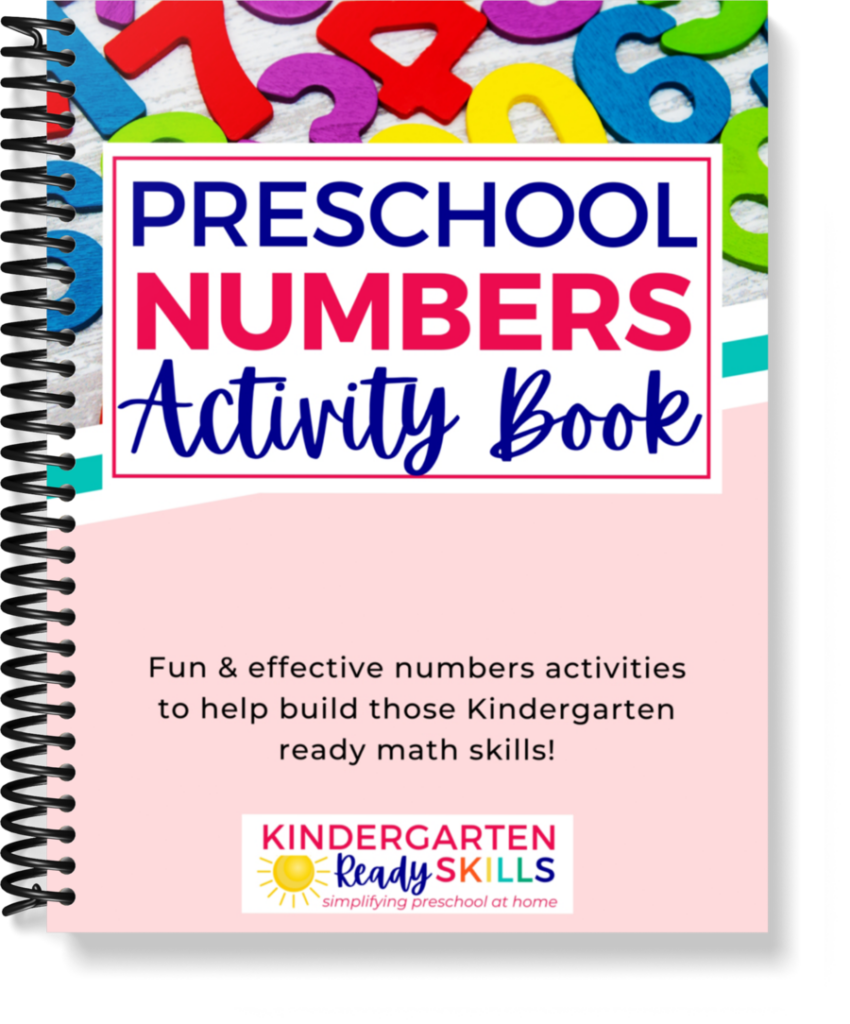 Get THE free
Preschool Numbers Activity Book
Whether it is building blocks on the floor, baby ducklings in a book, or the food on their plate, you can help them learn to count!
As the months and first couple of years go by, you will see your little ones pointing on their own and begin counting. At first you will say the words for the numbers before them, but then they'll say the words for themselves as they begin to talk.
Toddlers get such a sense of pride for getting to count on their own. As toddlers become preschoolers, we continue counting things with early learners and they count higher and higher.
And by the time our kiddos are preschoolers, they already have a beginning foundation for math.
They're practicing counting numbers and moving from looking at to writing number names.
That's where worksheets for preschoolers numbers and math skills come in. It's a great way to level up teaching preschoolers what numbers look like and the spelling of those numbers that they'll need to be familiar with.
Printables are a great tool to teach numbers to preschoolers!
The free printable worksheets I'm providing for you are a great way to get started building your child's math skills in several different ways all at once.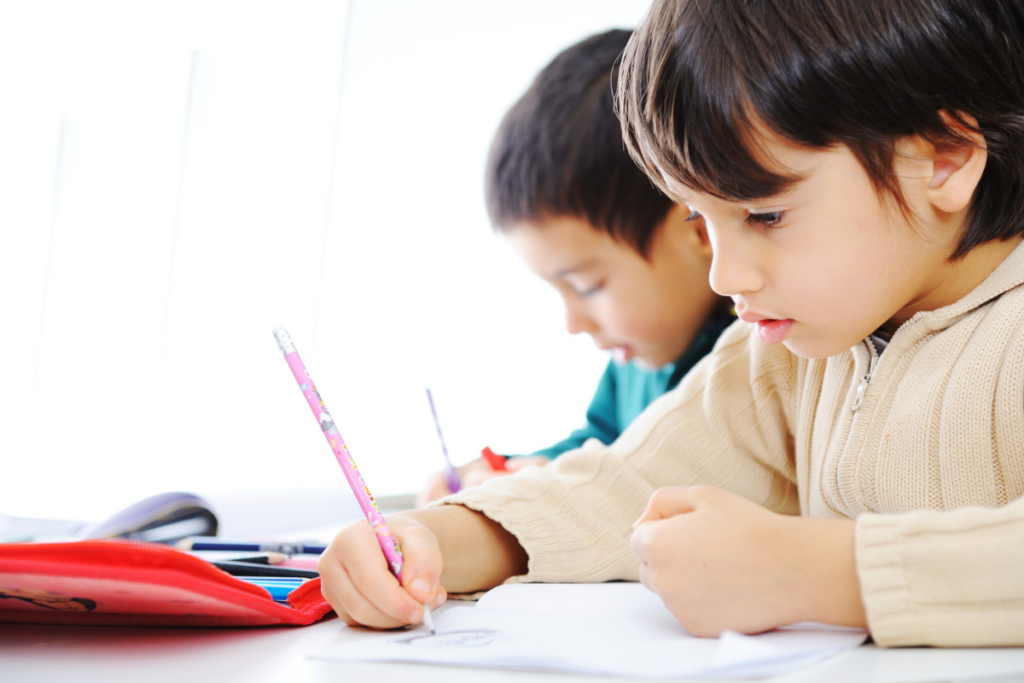 These worksheets will help your child practice building up their number sense skills with numbers 1-10.
By using a printable worksheet for preschool numbers work, you have a tactile thing to work with.
We all know our young children are tactile and they need to feel and experience learning. Plus, it's fun for our little ones because it feels like "big kid work" to them.
With a worksheet in front of you, there are things to point at, and things to work through together. It is a fun way to introduce worksheets for preschool children.
Our young learners have mastered counting at least to 10 or 20, so now we introduce the way the numbers look and how they are spelled.
I promise I'll dive into all the goodness of what's included with this free number worksheet set in just a minute but before I get to that I need to give you my teacher perspective on what your child actually needs to know about numbers and math skills before kindergarten.
Kindergarten Math looks very different these days
As you're helping your preschooler learn and preparing them to be successful with kindergarten math, I want you to know that math is going to look very different for them than it did when we were kids.
Our children are not going to add and subtract like we did.
Before they ever get to the words plus and minus they'll learn addition with the word and and subtraction with the phrase take away.
Here's what that will sound like (just keep in mind that these are Kindergarten level examples, not preschool)
2 and 3 make 5.
That's what they'll see long before 2+3=5.
And they'll see 5 takeaway 3 is 2 written out long before the equation 5-3=2.
WHAT IS NUMBER SENSE?
Number sense is really a deep understanding of numbers and their relationships, like comparing groups with an understanding of greater, fewer, more and less.
It's your child's ability to look at a group of 5 blocks and point to each block one at a time, counting one number per block until they get to 5.
NUMBER SENSE > ADDING AND SUBTRACTING
Your child will need to add and subtract within 5 during Kindergarten (using the terms more and less), IT IS PERFECTLY FINE for your child to spend this entire Pre-Kindergarten time on developing their number sense.
That's exactly what I encourage you to do.
Don't worry about addition and subtraction yet.
Your child doesn't even need to know anything about that before they get to Kindergarten.
Instead, really focus on building up their number sense.
If your child has a strong number sense, they're going to do really well with addition and subtraction when it's time to learn that.
PRESCHOOL NUMBER WORKSHEETS FOR NUMBERS 1-20
If you want some help beyond these free worksheets, I actually have a super comprehensive, guided learning kit for you.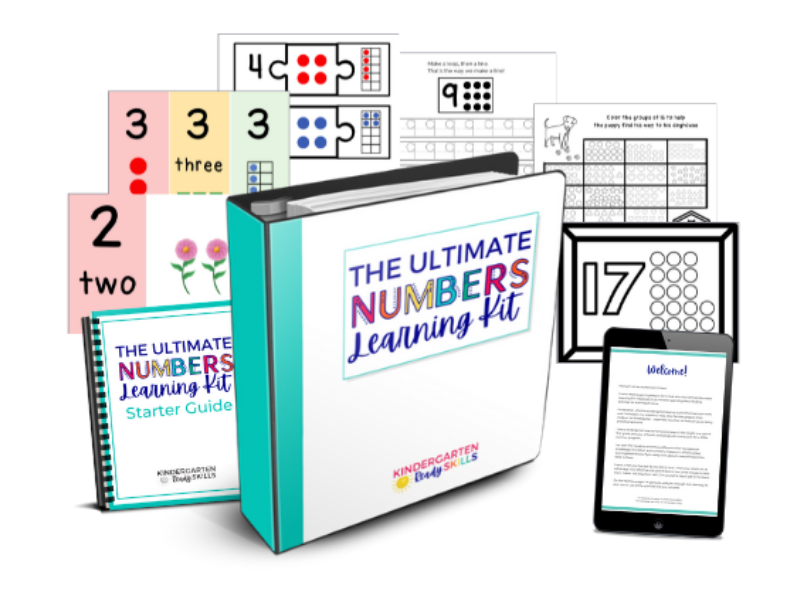 It's called the Ultimate Numbers Learning Kit, and it's the closest I could get to holding your hand as you teach your child number sense skills for number 1-20.
The Ultimate Numbers Learning Kit is a library of number learning resources that includes:
24 Skill-Building Activity Packets: one for each number 1-20, zero, and 3 review packs
Detailed Starter Guide: I walk you through the best, research-based methods
Counting to 20: EVERYTHING you and your child need to identify and write numbers
No Prep: Just print and go!
I know the Ultimate Numbers Learning Kit will make preschool math so much easier for you and your preschooler quite yet, but if you're not ready to dive into this bestselling learning kit, I want you to start with the Free Preschool Numbers Activity Book.
THE FREE PRESCHOOL NUMBERS ACTIVITY BOOK
It's a beautifully designed, free pdf file activity that will get you started on numbers 1-10 and the number zero.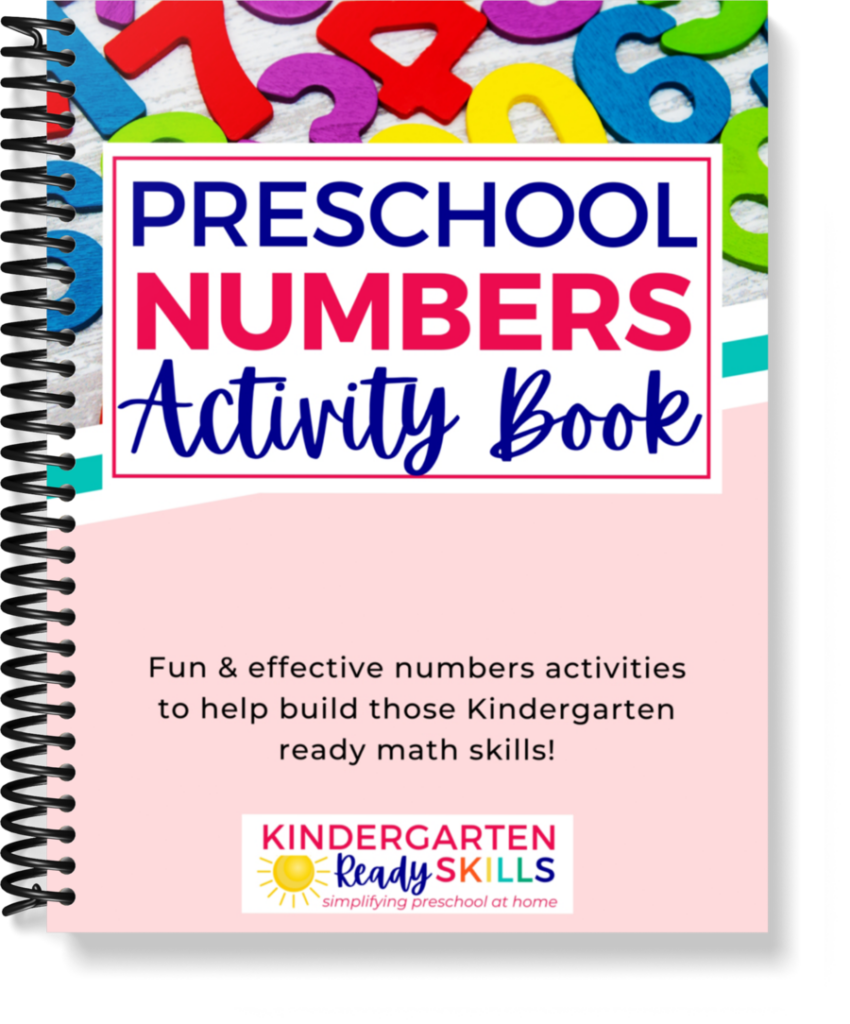 Get THE free
Preschool Numbers Activity Book
This number recognition worksheets in this activity book will give you:
space to trace each number
each number's word
counting practice
coloring the correct amount
numbers and shapes practice together
Your little one will love it and you'll love how easy these are to use!
PRESCHOOL NUMBER WORKSHEETS 1-10 PDF
Here's a look at the actual number worksheets included in this free pack.
The free printable worksheets in this free pack would be a great addition to a number study that focuses on one number at a time too!
Some families like to do a number of the week and some like to introduce a few numbers at a time. There's no right or wrong way, just do what works best for you and your child.
WRITNG NUMBERS
Just like with learning letters, the trickiest part of teaching your preschooler number skills will most likely be helping them learn to write.
Your child success with writing relies on the strength of the fine motor skills in their hands. It's really a physical skill just as much as a thinking skill.
So, if your child is struggling with number formations, go back and work on help them build up their fine motor skills.
Let your child squeeze out sponges, lace macaroni, and color.
The number tracing worksheets included in that free activity book are going to be perfect for practicing writing.
I like to put these in a page protector and have my preschooler use a dry erase marker to write on them.
Tip: An old baby sock makes a great eraser.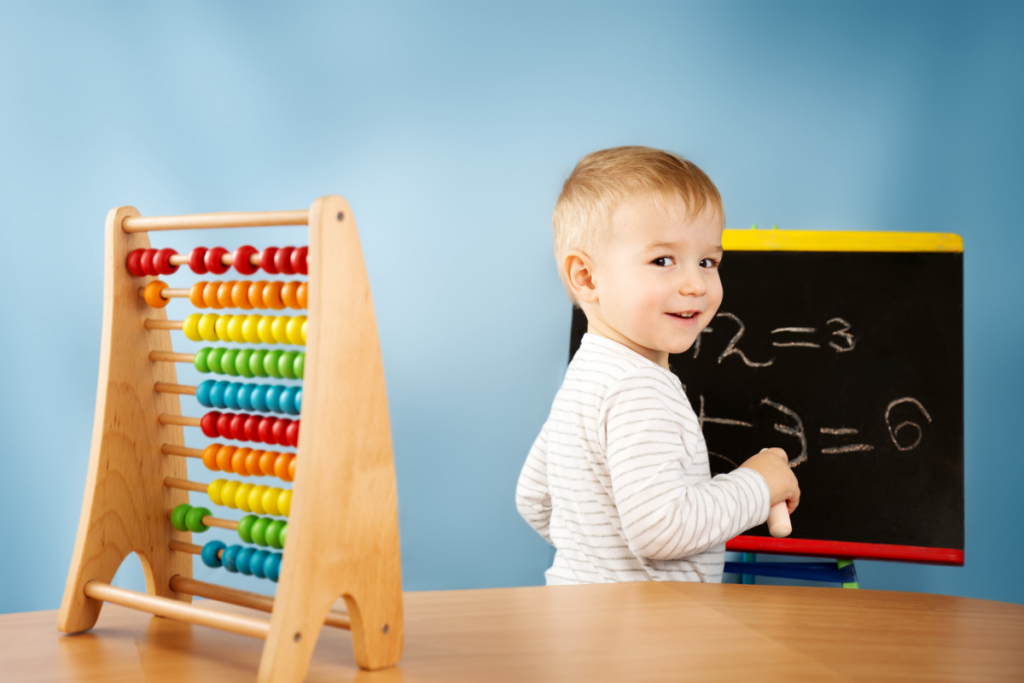 Types of Worksheets for Preschool Math Skills
When you're looking for math worksheets for your preschooler, you'll want ones that practice:
number recognition
reading, and writing, coloring numbers
odd and even
tracing
printable charts
numbers 1-20
The Free Preschool Numbers Activity Book will get you started on numbers 1-10 and when you're ready the Ultimate Numbers Learning Kit will dive deep into numbers 1-20.
WORKSHEETS FOR PRESCHOOLERS NUMBERS
There are so many different types of numbers worksheets for preschoolers. Here's a quick explanation of all of them so you know what to be looking for.
Here's a breakdown of these types of worksheets and what they'll help you with:
Recognizing Numbers: Preschool children need to know how to recognize numbers. Once they can identify numbers 1-10, it is easier to bridge the gap between teens, twenties, and on up.
Writing Numbers: Worksheets to write numbers are super helpful because they often allow little ones to trace and a fun way to practice their own writing.
Number Words: These is more of a skill for kindergarten children but it's a great idea to start exposing your child to number words now and let them see the word and numeral side by side.
Counting: Counting worksheets are great, the more visual stimulation in counting as we give out kiddos, the better! Their little brains thrive on practice and repetition and they love to work with you on counting.
Odd & Even: While your little ones are learning to count, introduce the concept of odd and even. You'd be surprised at how quickly they pick up on the concept and how worksheets help reinforce the ideas.
Printable Charts: There are great charts out there to teach your little ones the relationships between numbers. (Inside scoop, there may be a surprise one coming your way when you sign up for the free numbers activity book.)
Coloring: Use coloring pages as a tool for counting and basic math skills. As your preschooler colors, count how many are colored. You can even expand on this and see how many are not colored, and how many there are altogether.
Tracing: Worksheets that utilize tracing will help your little learners to see what a number looks like, trace that number, and then practice the number for themselves.
Shapes: Shapes worksheets for preschoolers for math can involve using shapes! Our little ones need to be able to identify shapes. Extend counting skills to identifying shapes by counting sides.
HANDS ON MATH FOR PRESCHOOLERS
Our preschoolers are built to be hands on learners, so while it's great to incorporate numbers worksheets when you can, you'll always want to bring it back to hands-on tactile learning.
Here are some hands on activities you can look for:
Tactile Math for Preschoolers: this includes things like playdough mats, counting mats
Tactile math is getting to touch, feel, and manipulate math concepts.
Manipulatives: These can be anything, ANYTHING that you can hold, touch, or feel. Manipulatives are the perfect tools for a fun way for preschool children to work on math skills.
Counting Bears
Unifix or Stacking Cubes
Dice
Marbles or Small Balls
Small Toys (lego people, cars, whatever you have)
Building Blocks
Crayons, Pencils, & Chalk
Cheerios, Pretzels, Gummy Bears, and other snacks
There are so many things that can be used for manipulatives. Look around your house for something small that you can count and work on basic math skills with your preschooler.
Counting Mats: You can either find a counting mat to print off, use a place mat for the table, or make your own with construction paper. The point of a counting mat is to have a dedicated space to count.
I love counting mats with circles to put 10 things into, 9, 8, and so on so that little brains can understand how 1 item looks in a group compared to ten or more items in a group.
PlayDough Mats: Playdough is arguably the most fun tactile tool you can use to work with math skills in preschoolers. The opportunities are endless for playdough fun and math skills.
Using play-dough can enable your little one to make their own manipulatives to count, form physical numbers, or trace number words themselves into the play-dough.
OTHER SKILLS LEARNED THROUGH PRESCHOOL MATH WORKSHEETS
Of course, your preschool learners will be exposed to other skills besides math skills by using worksheets for preschoolers' numbers skills.
Here's what that looks like:
Letters of the Alphabet: When exposed to numbers and their matching number words together, like in the Preschool Numbers Activity Book, your child will be learning letters along with numbers.
Reading Numbers: Once your little ones learn what numbers look like and how to read numbers, they will read numbers everywhere you go in the car, at the grocery store, and on the side of buildings.
Understand Number Relationships: It all comes back to those number sense skills. We want our preschoolers to learn the important concepts of more and less and how numbers relate to each other.
Preschool at Home
If you're doing preschool at home with your child, math should absolutely be part of what your child is learning.
Grab the FREE your Peschool at Home Starter Kit
Includes a teacher designed Kindergarten Readiness Checklist + so many more valuable insights!
One of my favorite things to do at home with my preschooler is circle time.
We talk about the weather, the day of the week, and look at a calendar (which is a number chart!).
Then we talk about colors, look at maps, and talk about the letters of the alphabet before counting as high as we can.
We have a letter of the day as well as a number of the day.
For both the letter and number of the day, we trace it, then practice writing it. After writing several letters and numbers, we talk about words that begin with the letter and places where we've number of the day before.
My preschooler loves coming up with all the ways the number of the day exists in our lives and creating situations through play throughout the day where the number occurs.
I often hear, "Look, Mom! There are 3 books, that's the number of the day!" or something similar. When numbers, counting, and math skills are brought to their attention, they return the favor.
Independent practice is a good thing to start with preschoolers.
Whether you plan to continue homeschooling or will send them to an actual school building, they need to learn how to work.
While we can't expect our preschoolers to be diving into numbers facts on their own, it is a great idea to step away while your child is working and give them a chance to succeed without mom right by their side.
That's what independent practice looks like in many preschool classrooms too.
Lots of checking in and stepping away.
YOUR NEXT STEP
Now that you know all of the skills to practice with your child, it's time to get to work.
The Free Preschool Numbers Activity Book is your best starting point. Download that for free here.
Then check out the Ultimate Numbers Learning Kit and decide if you want that extra support.
You'll will find a step-by-step guide for you and 20 pages of activities to help your child learn numbers 1-20 and zero.
I know your little ones will be displaying their on the fridge soon!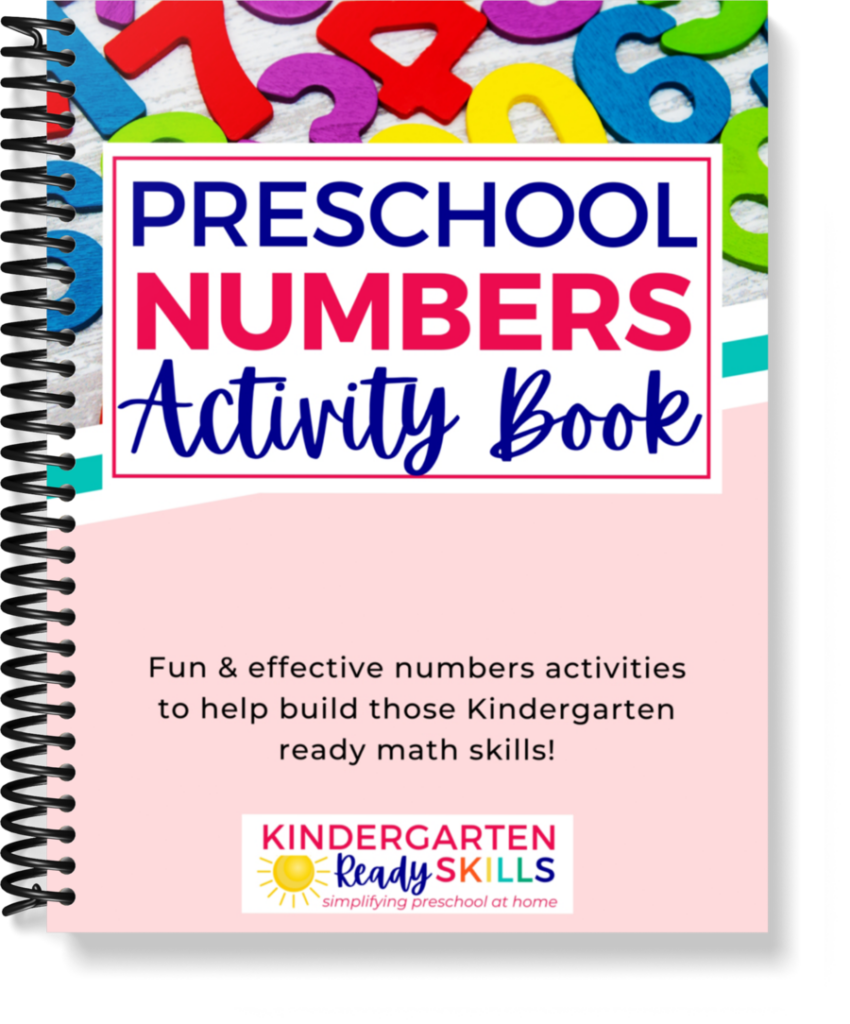 Get THE free
Preschool Numbers Activity Book