Tracing Worksheets for Preschoolers
If you're looking for free printable tracing worksheets for preschoolers, you're in the right place. I have some super helpful, teacher designed free printables that will be the perfect first step in helping your child build up their writing skills. I'll also explain the strategies you need to know to set your child up for success in writing.
FREE TRACING WORKSHEETS
There are a lot of free tracing worksheets for preschoolers out there on the internet but you want to be sure you're choosing ones that are helping your child practice the right skills.
Meet your child where they are and help them develop the very next skill that they need.
Don't jump all the way to your end goal of your child being able to write all the letters of the alphabet.
Start with pre-writing skills.
Help your child build up their fine motor skills.
Writing letters, numbers, and even sentences will come in time.
The Free Preschool Tracing Activity Book that I created for you is your perfect first step!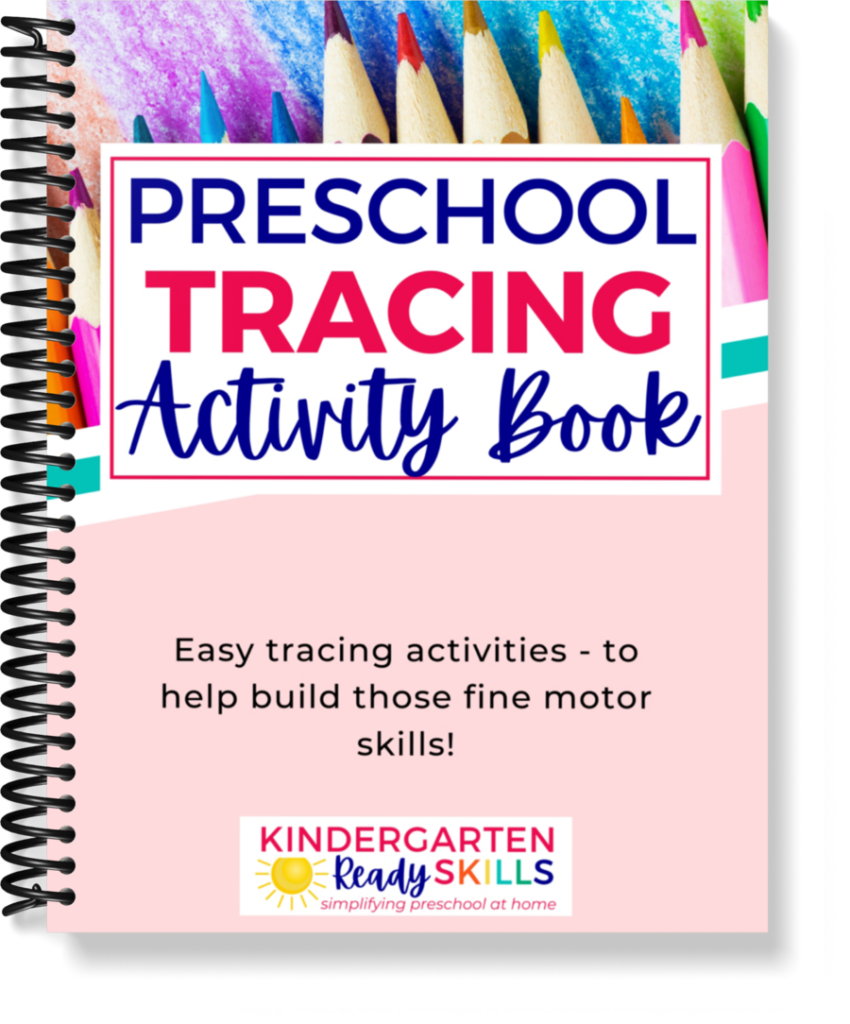 Get the free
Preschool Tracing Activity Book
This free activity book was designed by a kindergarten teacher (me!) to help you practice tracing skills with your child in the right order.
This activity book is intended for personal use at home.
The activity book starts with writing straight lines across and guides you through building up to letter and number tracing worksheets.
You should absolutely grab this if your child needs help with writing.
And keep reading so I can talk you through the best ways to use this tool (or any tracing tool, but you should use this one.)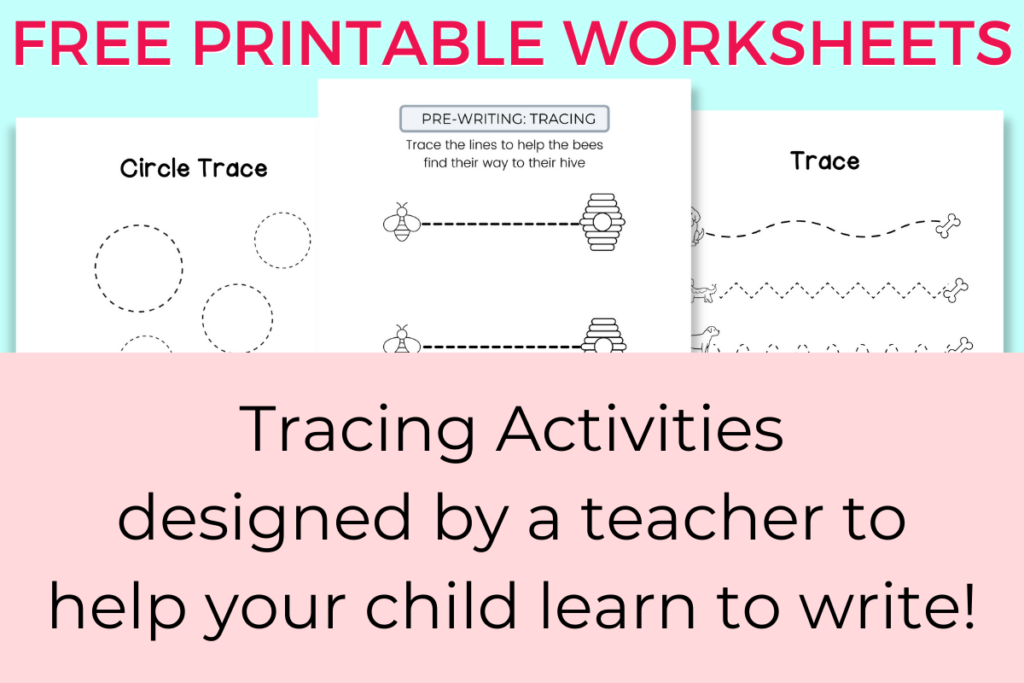 PRE-WRITING SKILLS
Children must learn pre-writing skills before they can write.
These skills boost your child's ability to hold and handle a pencil, along with several other skills like drawing, writing, and coloring.
Here's the thing… you can't control when your child learns to write.
All you can do is give them the opportunity to practice, and prewriting activities like tracing are perfect for this.
The free printable tracing worksheets in this activity book are in a clear order, so you know where to start and where to go next.
The engaging elements on the worksheets are a fun way to get your child interested in pre-writing practice.
PENCIL CONTROL PATHS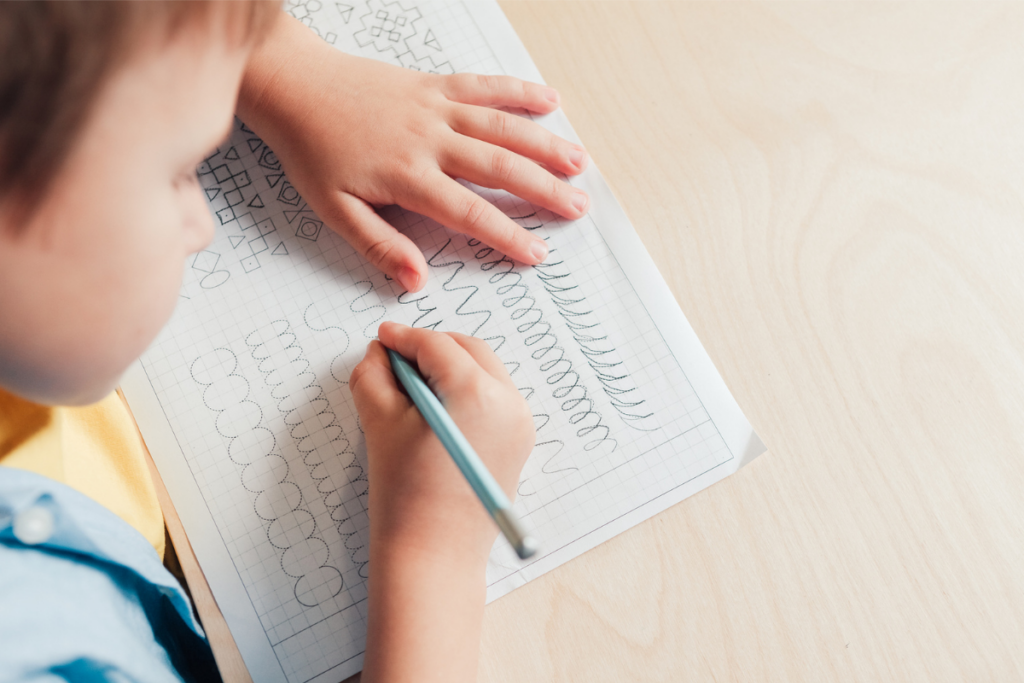 Pencil control is just the ability to hold and operate a pencil correctly while writing.
It seems super simple but to our preschoolers this is actually incredibly tricky.
In my experience, it's one of those skills that a child just needs to practice to improve with.
Once your child has gotten pretty good at tracing lines in step 1, they'll be ready to move on to step 2 — Pencil Control Paths.
Here's a peek at what those look like:
BENEFITS OF TRACING
Tracing has other important benefits in addition to being a key pre-writing skill.
This practice helps your child develop:
Spatial reasoning skills
Pencil grip (even if they're using a crayon)
hand/eye coordination
dexterity
drawing skills
fine motor skills
All of these are super valuable as you're working toward kindergarten readiness with your child.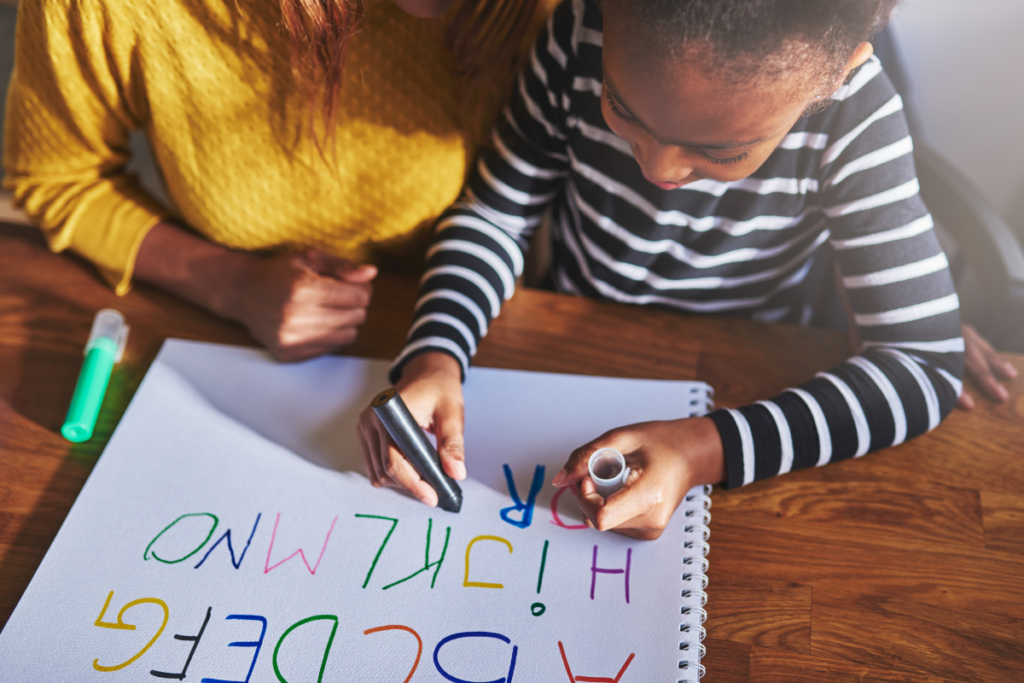 HOW CAN I HELP MY PRESCHOOLER LEARN TO WRITE?
I'm sure you already know this and have experienced it first hand, but writing is by far the hardest skill for our children to master.
There's a good reason for this.
Writing is both a cognitive skill and a physical skill.
Your child needs to know in their mind what the letter looks like and then they need to physically with their hand write that letter down.
And writing for preschoolers in general is so hard because they're still forming their fine motor skills – which are all of the teeny tiny muscles in their small little hands that they use for writing.
So if your child can identify the letters but is struggling to write them down, I encourage you to circle back to practice fine motor skills and really help your child build those up.
The stronger your child's fine motor skills are, the easier it will be for them to write.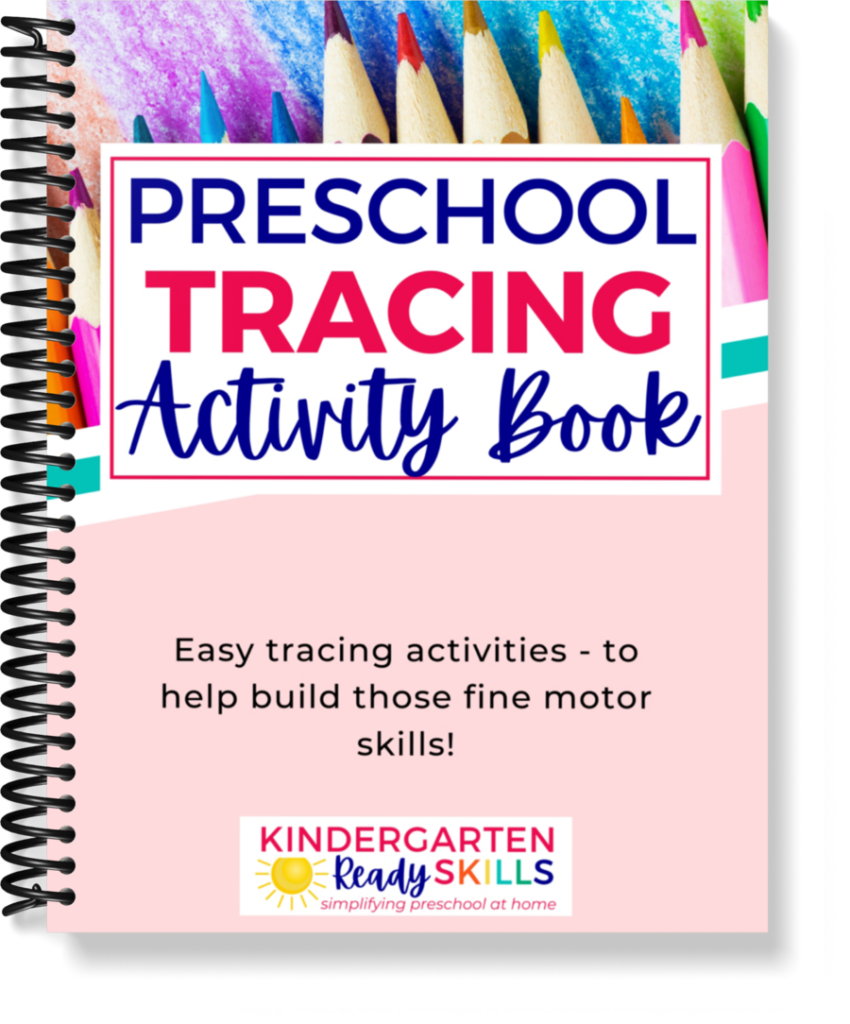 Get the free
Preschool Tracing Activity Book
FINE MOTOR SKILLS
Fine motor skills are a person's ability to make movements with the very small muscles in our hands, fingers, and wrists.
Strong fine motor skills are essential for most school related tasks, particularly writing and cutting but many other tasks as well.
Oftentimes, parents think that the way to improve a child's handwriting is more writing practice, but in reality what a child needs is fine motor practice.
Being intentional about building your child's fine motor skills will save them much frustration later on so they can really focus on the content they're learning.
And strong fine motor skills will give your child a nice confidence boost which is a great thing for our little learners.
Tracing practice like the free printable worksheets included in the Free Preschool Tracing Activity Book are a great way to help your child build up those important fine motor skills.
PICTURE TRACING
Picture tracing is great because it's so much more engaging for our kiddos than just tracing lines.
(Although I do think the designs on those line tracing pages do make them fun!)
I love picture tracing for practicing pencil control. And I included some fun picture tracing activities in the Free Preschool Tracing Activity Book so you'll have some to use with your child.
It's perfect because our little ones are so motivated to control their pencils and complete the pictures.
But at the same time, it's so much more effective for building up pre-writing skills than a plain old coloring page!
NUMBER TRACING
I think number tracing is a little more straightforward and easy than letters (and especially lowercase letters) because there's less of them and mostly they're less curvy.
I've included some tracing number worksheets for you in the Free Preschool Tracing Activity Book.
Here are some things to keep in mind when working on number tracing with your preschooler:
You don't necessarily need to go in order because number order isn't the main skill we're wanting our preschool kids to practice during tracing
We're not going for perfect! It's so much more important to build up their confidence and encourage them to enjoy the activity. It doesn't matter one bit if they can write a perfect 5 at this age.
Stack in some other number skills when you can. Number Sense really matters more than your child's ability to write numbers as a preschooler.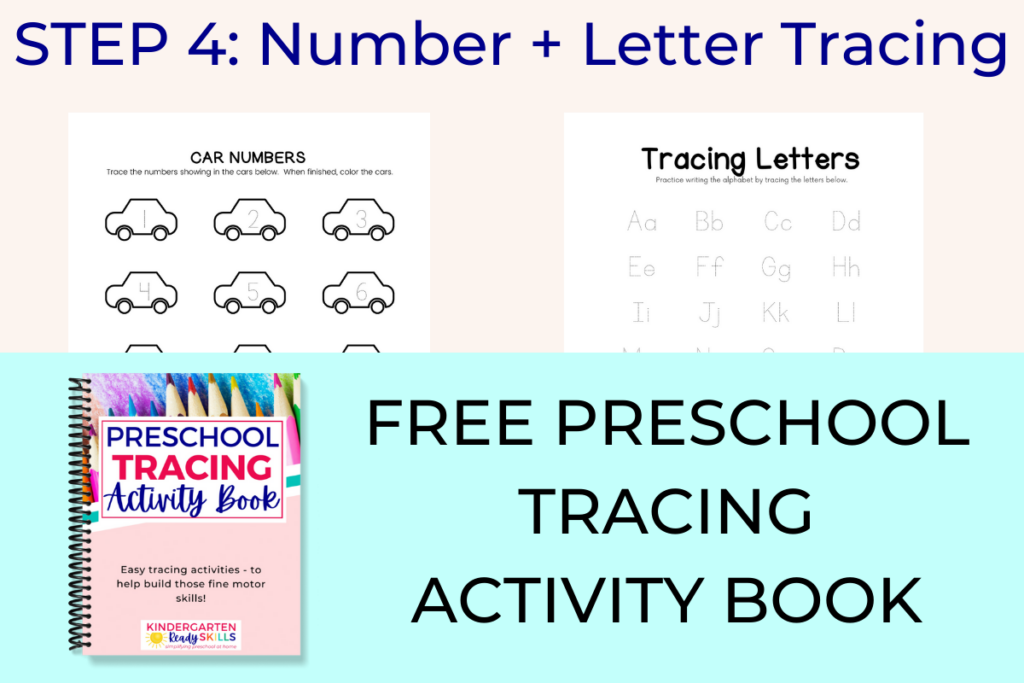 ALPHABET TRACING
Of course, there are some free printable letter tracing worksheets in the Free Preschool Tracing Activity Book too.
These alphabet worksheets include capital letters and lowercase letters for every letter of the alphabet.
Remember that this will likely be the hardest page to trace for your child and it might take them a while to master those small letters.
Just keep trying with the alphabet worksheets and they'll get there — before they're kindergarten kids!
Psst… If you want a boatload more alphabet printables to help your child learn writing, letter sounds, and to identify letters, check out my bestselling Ultimate Alphabet Learning Kit.
TRACING HACKS
Tracing practice doesn't always have to be one-time use with a pencil.
You can print the Free Preschool Tracing Activity Book and laminate the pages or slide them in a page protector.
You could also DIY laminate with contact paper or packing tape. (I did that all the time when I was teaching in aa school that didn't have a laminator!)
Then your child can use a dry erase marker to trace on top of the plastic.
This is more fun for them and less work for you since they can erase and use it again and again.
An old baby sock, piece of felt or even a tissue works great for an eraser.
MAKING TRACING FUN
We don't want to be fighting with our kiddos about doing any type of learning activity — we want it to be fun!
So it's important to mix things up and make it engaging.
Try different things to trace with like:
crayons
twistable crayons
colored pencils
dry erase markers
regular markers
stacking crayons
maybe even a pen!
Silly little things like using a grown up pen are amazingly fun for our children if they've never used a pen before.
I have some colored pens that I use at my desk and whenever I let my kiddos use them (which is not every time they ask) they are thrilled!
You can even mix up where they're working. Here are some ideas:
using a clipboard
sitting at the coffee table or a new desk
a folding tray
taping their paper under a child sized desk and letting them write while laying on their back
taping their paper to the wall and letting them stand to write
HOLDING A PENCIL CORRECTLY
When your child is tracing, you want to be sure they're holding their pencil correctly.
And it allows for speed and endurance – which is super important for when your child has to write more and more in Kindergarten.
It will also help your child to avoid frustration, fatigue, and outright hand pain that comes from trying to write incorrectly.
So how can you help your preschooler hold a pencil correctly?
What we want is for the child to pinch the pencil with their thumb and index finger and then wrap the rest of their fingers inside their palm to support.
A good trick is to put the pencil down on the table in front of them, point facing them. Then have them pick up the pencil with their thumb and index finger and then bring it into their hand supported by their other fingers.
And this isn't just for pencils. Do the same with crayons, colored pencils, markers — literally anything they write with.
Smaller broken crayons can actually be easier at first for these little hands.
HOW OFTEN TO TRACE
Some children love tracing, others not so much.
Tracing isn't something you need to do every day for your child's skills to grow.
Build this into your learning day a few times a week and you'll see huge improvements in your child's writing.
START TRACING
Now you know how to use tracing activities to help build up your child's handwriting. So it's time to get to work!
Download the free preschool tracing worksheets that I made for you and start using them a few times a week.
Keep it engaging by mixing up how and where you child writes. And be sure they're holding their pencil correctly.
Happy tracing!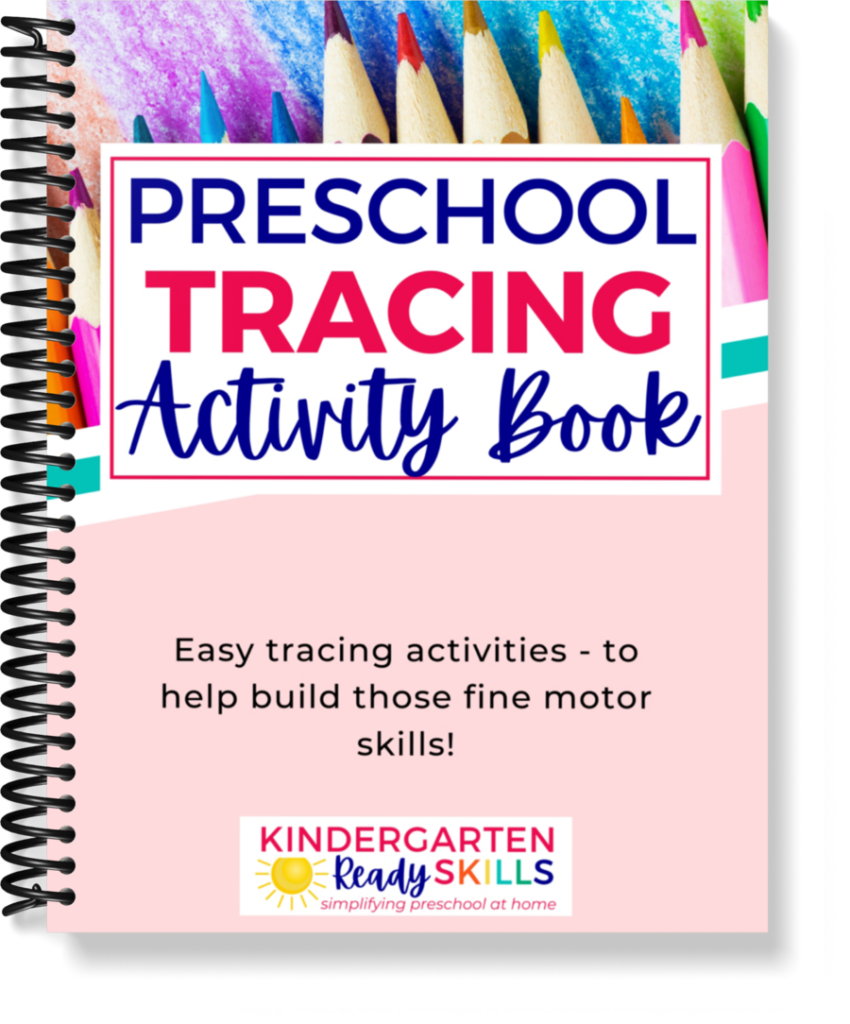 Get the free
Preschool Tracing Activity Book