At Home Preschool: The Guide to your Homeschool Preschool Day
In this post I'm going to guide you through a peaceful, educational and effective at home preschool day. If you want help structuring your homeschool schedule and figuring out how to make real learning happen with your child, you'll definitely want to bookmark this guide.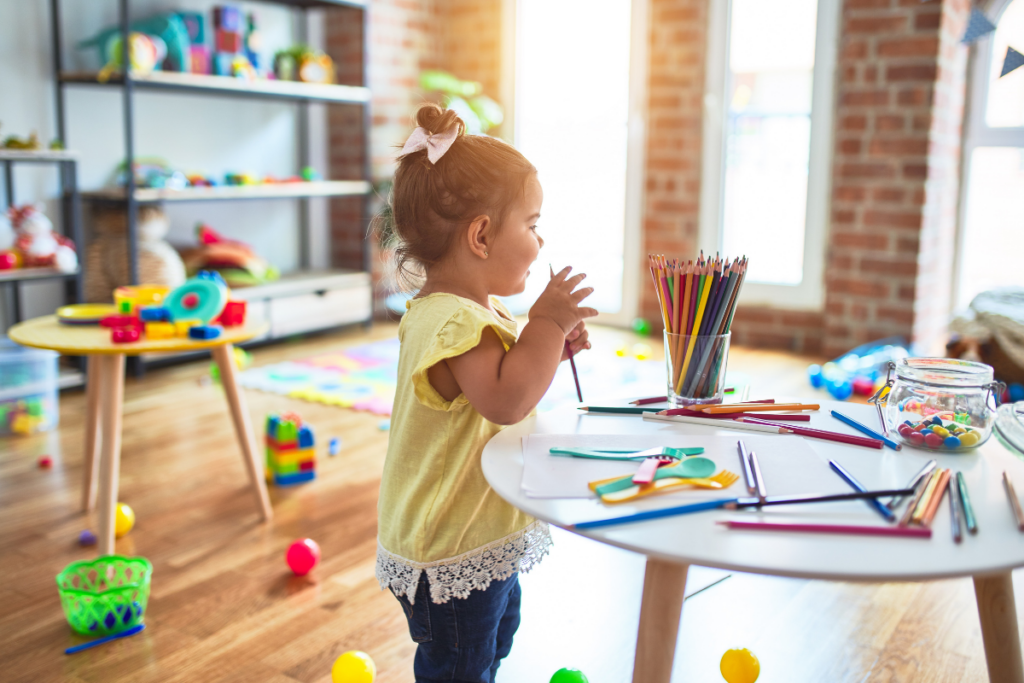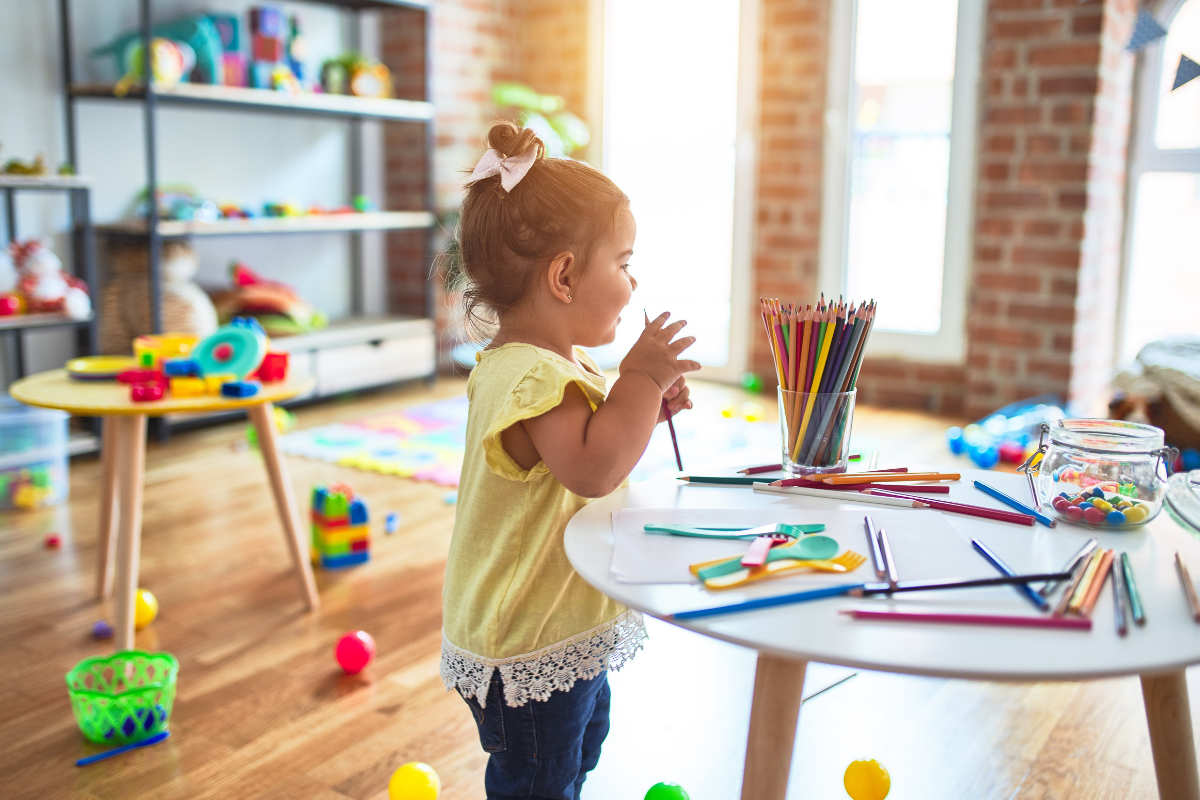 HOW TO HOMESCHOOL YOUR PRESCHOOLER
Here's the most important thing you need to know: Your top goal during this preschool stage is to help your child love learning. 
Show them that learning is fun and help them to see that the world is full of wonder.
If you can do that, your child is going to be their most successful self throughout their education.
Psst… if you're just getting started with at home preschool, be sure to download our free Preschool at Home Starter Kit here!
Grab the FREE your Peschool at Home Starter Kit
Includes a teacher designed Kindergarten Readiness Checklist + so many more valuable insights!
That is your most important mission. Even if everything else goes wrong, but you've turned your child into a lifelong learner, you've succeeded.
Now that we have clarity about our true mission, let's begin.
YOUR HOMESCHOOL PRESCHOOL DAY
Let's dive into routines and strategies for crafting your preschool program.
We'll be adding in educational activities throughout the day, along with story time and independent play.
I'll help you create your learning environment that will be perfect for your little learner so you can really make the most out of their early childhood education.
Good news: It won't take as much time as you think!
ROUTINES
Children thrive on predictable routines and schedules.
Creating and sticking to routines will also provide a smoother transition if and when they move to their elementary education.
Notice we'll be focusing on daily routines, rather than a strict daily schedule. 
The reason for this is that a predictable routine can be followed almost anywhere, whereas a timed schedule may not be.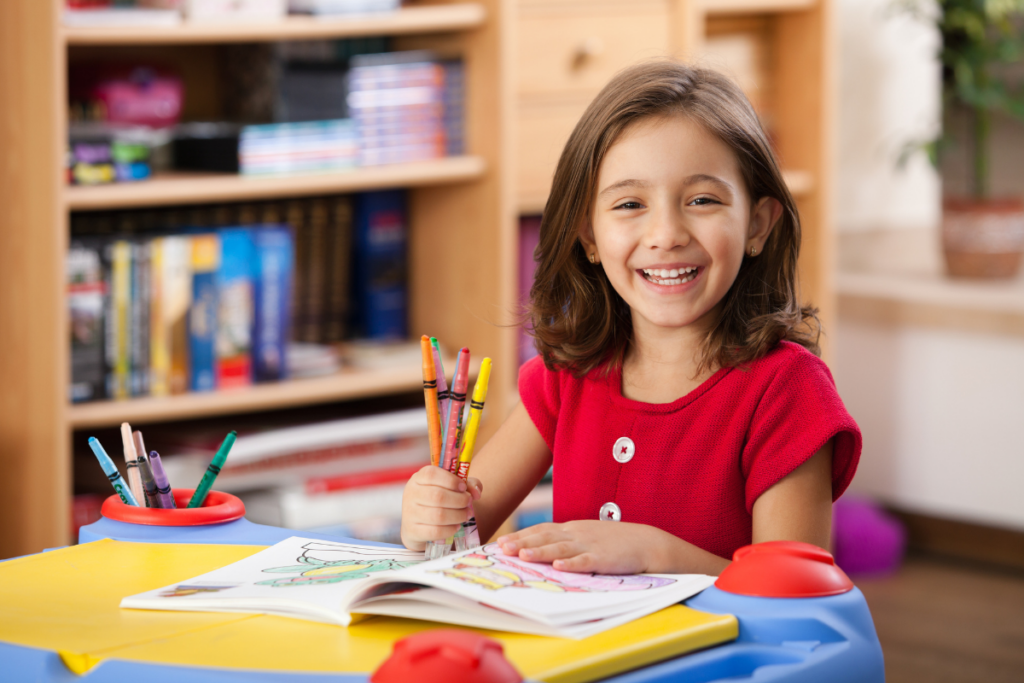 If your schedule is strict on everything happening at a specific time and your schedule gets disrupted for any reason, you'll notice your child having a rough day and you'll end up spending a lot of time preparing them for the change and then talking them through it for the rest of the day.
A routine, however, can be followed even during vacation or unexpected emergencies with allowances for flexibility.
And you can build school time into each day.
An example of a typical stay-at-home preschool routine might look like this:
Get up and dressed
Playtime
Breakfast
Finish getting ready for the day
Learning centers
Crafts
Snack
Reading or phonics instruction or skill practice
Learning centers
Math
Lunch
Outside
Playtime
Naptime / Quiet time
Playtime
Dinner
Bath
Playtime
Story
Bedtime
A routine like this one could be followed with only minor adjustments no matter what is going on.
It can even be followed on vacation at a theme park, since there are learning opportunities no matter where you go.
Waiting in line for a ride is the perfect time for a letter or number hunt game.
Lunch is a great opportunity for a lesson about the needs of different animals and why they should not be fed french fries or popcorn. Every part of a routine like the one above can be weaved in.
Your kids probably won't even realize they're "doing school"!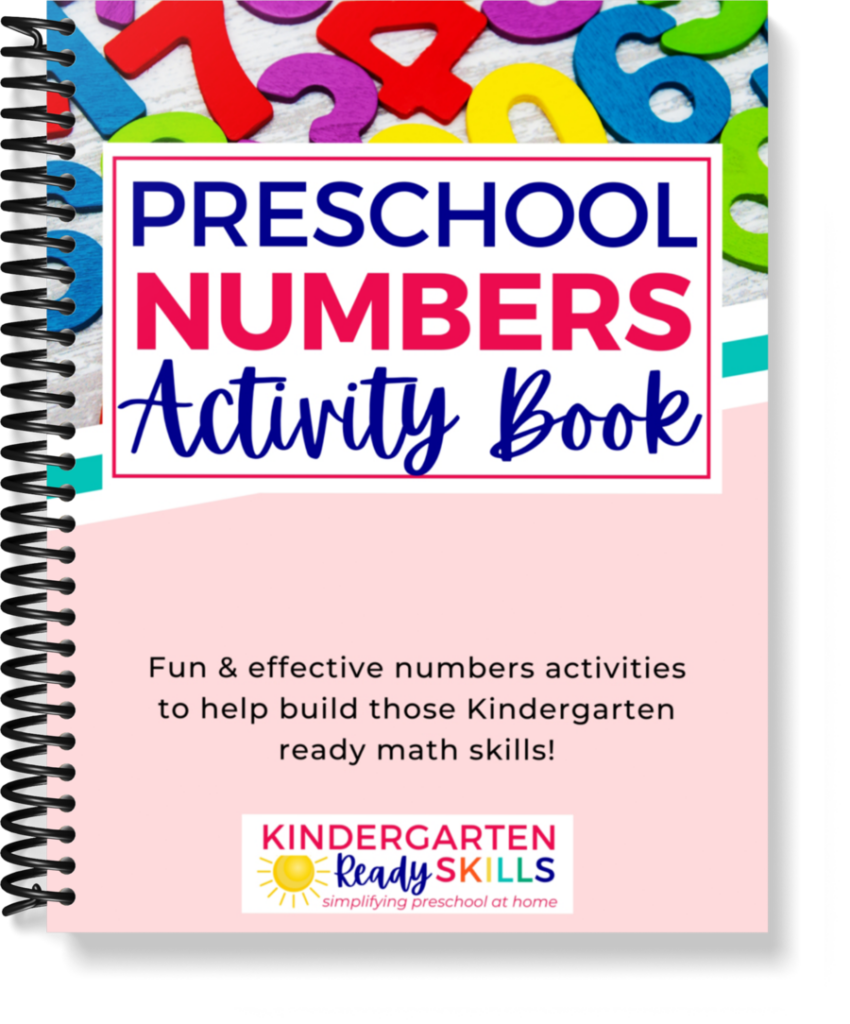 Get THE free
Preschool Numbers Activity Book
THINGS TO THINK ABOUT
Before you start, you'll want to make these key decisions:
What learning activities will you use?
There are several homeschool preschool curriculums out there. Most of them are not very good.
Truth be told, if they're not designed by an actual teacher (like my resources are), they're likely not appropriate.
Quick trick to tell if it's a resource you want to use: check letter sound words that are listed for the letter A.
If you see ant — run!
Ant does not make a true a sound. It's a tricky sound that shouldn't be taught until your child has a says ah like in apple down.
Here's what I recommend:
Watch this free video training called 3 Mistakes to Avoid when preparing your child for Kindergarten
Grab the Ultimate Alphabet Learning Kit because it's the very best resources I've ever come across for teaching your child letter skills (which frankly is the foundation of preschool education)
Visit the Kindergarten Ready Shop and choose the teacher designed, easy and effective resources that your child will be interested in
What learning materials will you need and where will you store them?
What materials you'll need will depend on the curriculum and activities you want to do. Do you need workbooks, computer programs, craft supplies?
Do you travel a lot? If so, having a specifically dedicated school space may not be for you. Perhaps your family would be better off with a bin or basket for each child's learning materials that can be easily transported.
What is your learning space going to look like, or will you even have one?
Hint: I generally use my living room floor.
This goes back to traveling or space.
If you travel a lot, a dedicated space would not make sense. Instead, place the supplies your child needs in a container that is easily moved and accessible. This may also be the best option if you do not have a lot of room.
If you're primarily home, you might consider creating a school room or dedicated area where school happens. This will allow your kids another routine, coming into the school area, which may provide a greater ability to focus.
PLANNING YOUR LEARNING DAY
Flip through and look at the learning resources you've picked.
Include social emotional learning. More on this later.
Plan out your lessons for the week. What are you really hoping your 3 or 4 year old learns this week and how do you want to teach that?
Consider your materials. Start making a list:

What do you need to complete the lessons you've chosen for the day?
How are you going to organize those supplies?
What do you want your children to learn from the lesson?
Once you've determined what you are teaching and how, gather and organize your materials by lesson and by day. This will save you time.
Tip: Put wiggle room into your schedule as concerns time. There will always be disruptions, and nothing is going to take as long as you think it will. Plan for longer.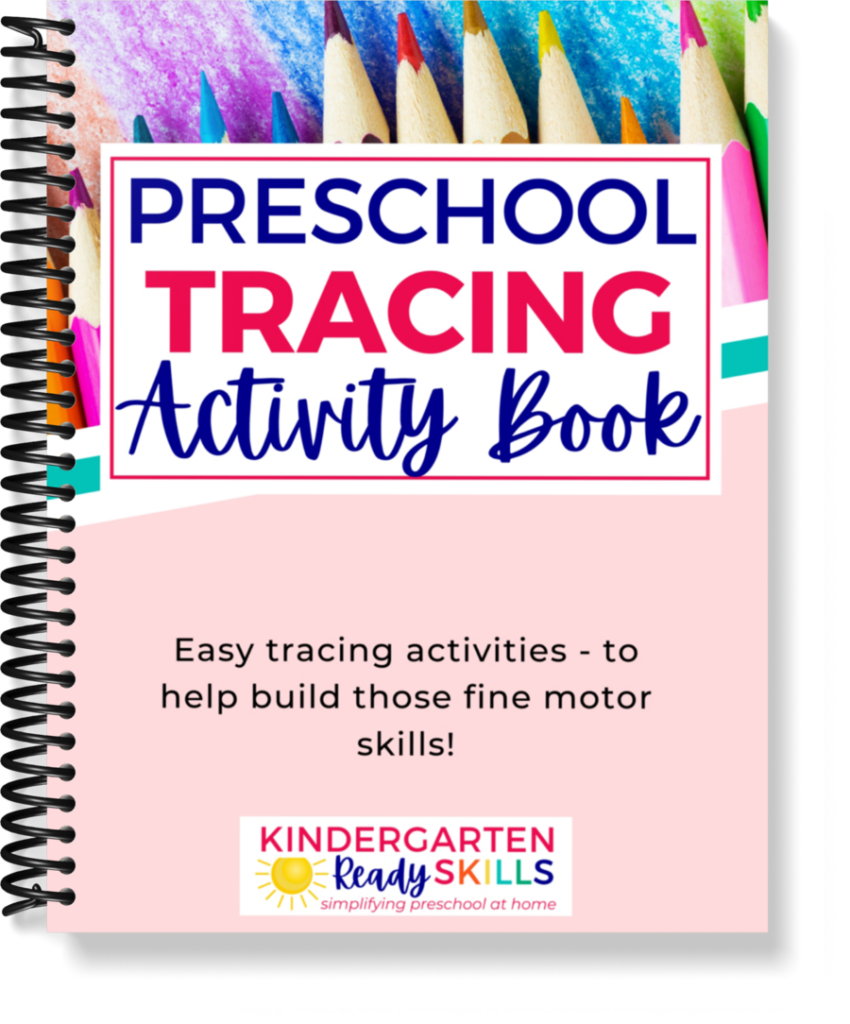 Get the free
Preschool Tracing Activity Book
How Should I Teach My 3 or 4 Year Old?
Your teaching method totally depends on what the most important focus of your child's education is to you.
Personally and professionally, you'll find the emphasis here on learning-through-play and socio-emotional learning as this is where most of the research points.
There are so many methods you could look into, or you could create your own based on your personal philosophies. (Backed up with the research that I love to delivery to you, of course.)
These are a few you may want to check out with some helpful links:
Although these are technically different approaches to education, they have many of the same basic principles.
They all look at the child as a whole person, rather than a checklist of skills.
There is a heavy focus on empowering each child through play based or center based learning that includes life skills as well as academics, fostering independence, and offering as much choice as possible throughout the day.
Personally, I do not follow a specific education philosophy. I do want works for me and for my kids and make my best effort to fit some learning into each day.
KINDERGARTEN READINESS
I have a full post guiding you through a kindergarten readiness checklist here.
Here's a overview of some of the skills your child will need to know:
emotional and social skills
independence 
love of learning
the alphabet
the sounds each letter makes
book handling skills

how to write their name

identifying numbers 
number sense skills

using basic school supplies successfully and responsibly 
Let's break each of those down.
EMOTIONAL AND SOCIAL SKILLS
These skills are absolutely essential. Not just in education, but in everyday life.
The earlier your child is able to regulate their emotions and play well with others, the more they will learn.
So how do you help your child build up these skills?
I could write an entire article just about this topic (and I'm sure I will at some point) but we'll keep it brief for now.
Emotional skills appropriate for 3 and 4 year olds would include:
Ability to recognize emotions in themselves and others
Ability to use 2 or 3 coping skills to help them handle big emotions
Empathy for others (This must be taught!)
Ability to accept and manage disappointment
Social skills appropriate for 3 and 4 year olds would include:
Working peacefully with a partner
Asking for help
Kindness
Keeping hands, feet, and teeth to themselves
Ability to follow directions – Bonus points if your kiddo is able to do this the first time they're told.
Active Listening Skills
Conflict Resolution Skills
Waiting Turns
Sharing
There are many different activities you can do to help your child learn these skills including reading books together and acting out social stories.
BUILDING INDEPENDENCE
Teaching your child to be independent is going to help them gain confidence.
When growing our children into lifelong learners, independence is going to play a large role in letting them guide themselves towards what they are interested in learning.
Some great ways to foster independence in preschool are routines, choices, and free play.
I mentioned earlier about having a routine instead of a schedule and that is going to help with fostering independence as well.
Having a spot for shoes right as you walk in the door can help your child understand that they have to take their shoes off and put them away as soon as they come in the door. 
Grab the FREE your Peschool at Home Starter Kit
Includes a teacher designed Kindergarten Readiness Checklist + so many more valuable insights!
CHOICES FOR THE WIN
Giving children the opportunity to make choices about their life and learning will help prepare them to take over more decisions as they get older.
As much as you can, allow your child to make their own decisions during the day. If you don't have to choose for them – don't.
Having mismatched clothes won't hurt them, and may even help them to develop their own unique style. Perhaps they could choose dinner a few nights a week, or dessert.
Even on extra special days, such as going to a park, they could choose what they want to eat and order for themselves, or have some say in which rides are most important. 
You'll find that offering choices really helps to eliminate push back and behavioral issues as well.
Learning through unstructured free play and having choice in their learning is another important part of a preschooler's day.
Start with a simple part of the day such as learning centers.
Allow your child to choose which center to play at and for how long. This is a great way to keep them engaged and learning.
Other options would be having more than one craft idea ready each day and allowing your child to choose which one they would like to work on during craft time.
Providing kids with a variety of materials and being there to support them in their decisions without directing them in how they are playing or exploring will help them grow into strong independent kids. 
LOVE OF LEARNING
If you're just scanning this post, come focus in on this point:
The very most important thing for young children to learn during this preschool stage is the love of learning.
Learning through play is a great way to help guide your child to discover a love for learning.
So many kindergarten readiness skills can be accomplished by just allowing children to play and explore.
Sensory play, outdoor play, water play, and free play are all great examples of times preschoolers can play without structure while learning to love learning. 
Sensory exploration is so engaging for our preschool aged children.
I love to do sensory bins and incorporate learning elements from one of these learning games to stretch the learning effort.
Giving a few engaging simple activities for your child to choose from is always a good way to start the day.
Some curriculum topics that tend to be extra engaging for preschoolers are learning colors, shapes, and vocabulary.
These can be easily incorporated into unstructured play and kids often don't even realize they are learning when practicing these concepts because they don't include typical reading or math skills.
It is easier to "sneak in" these skills and kids won't even realize how important they are. 
You'll want to be sure to follow your child's interest as much as possible.
Here's the magic in this: When your child believes that learning is fun and something that want to do, they power struggle disappears and they get really excited to learn new things.
THE ALPHABET
Your child will definitely be expected to enter Kindergarten with a strong grasp on the alphabet.
And they'll be using that alphabet knowledge to actually learn how to read in Kindergarten.
(I know, things look a lot different these days than they used to.)
Learning the alphabet should 100% be a daily part of your at home preschool time.
In fact, the top priority of preschool teachers are alphabet skills and social skills.
The Ultimate Alphabet Learning Kit is the best, most comprehensive resource I've ever seen for teaching your child letter names, letter sounds, and how to write letters.
It includes a whole year's worth of letter learning activities. If you want a teacher's support in teaching your child letter skills, I highly encourage you to check it out here.
BOOK HANDLING SKILLS
When preschoolers are learning how to read without actually reading the words they are learning about a skill called concepts of print.
Some parts of concepts of print are just holding books, turning the pages, looking for words vs pictures, and pointing to words.
Going a little more in-depth you can talk about the author writing the book and the illustrator making the pictures. 
Here's a great list of Print Awareness Activities.
HOW TO WRITE THEIR NAME
Fine motor skills are a huge part of kids being able to learn to write their names.
Fine motor skills can be practiced by doing some of the most fun preschool activities. It is very important for kids to have strong fine motor skills before they focus on being able to write their name "neatly" or "inside the lines". 
Here are some great activities for increasing fine motor skills:
Playdough
Scribbling
Painting
Puzzles 
Legos
Velcro
Getting Dressed (Zipping, Snapping, Buckling)
Cutting
Opening and Closing Containers
Learning to form letters using the correct path is important so you can start by having your child use their finger to trace the letter on a poster/flashcard or make the letter in a sand tray if they are not ready to hold their pencil and spend a lot of time writing.
MATH SKILLS
Of course, it's also important to add in some math skills.
RECOGNIZING NUMBERS
We can start by working on recognizing numbers.
One great thing about numbers is that they are everywhere in our environment.
If you are taking a more on-the-road preschool approach, where you are out and about exploring, you can work on identifying numbers everywhere you go. 
Talk about numbers you see on signs, menus, toys, etc.
Kids are even great about finding and creating numbers in nature. You can use sticks or rocks to create numbers and talk about what their names are and what order you count in to get to 10. 
If you are home you can use crafts and learning centers to practice numeral recognition while learning through play. 
NUMBER SENSE
Beyond recognizing numbers, it's also really important to lay a strong foundation for number sense.
It's an understanding of numbers and their relationships, like comparing groups with an understanding of greater, fewer, more and less.
Number sense is your child's ability to look at a group of 5 blocks and point to each block one at a time, counting one number per block until they get to 5.
So yes, your child will need to add and subtract within 5 during Kindergarten (using the terms more and less), it is perfectly fine for your child to spend this entire Pre-Kindergarten time on developing their number sense.
That's exactly what I encourage you to do.
USING BASIC SCHOOL SUPPLIES
Being able to complete school tasks safely and at least partially independently is a huge step towards kindergarten readiness.
Kids need to learn how to use a variety of writing tools, art supplies, and scissors (which can take a lot of practice).
Fine motor skills play a factor in being able to use these tools appropriately as well so we can take a peek back at that list in the previous section and use those same activities to get your child to strengthen those fine motor skills. 
Along with physically being able to use the tools, there is the safety/rule following aspect of learning to be responsible with tools such as scissors and paint.
Teaching your child to not run with scissors or keep paint in the paint area can go a long way toward setting them up to be successful in a kindergarten environment. 
WHERE CAN I FIND ACTIVITIES FOR MY PRESCHOOLER?
You are in the right place! Kindergarten Ready Skills is a goldmine of preschool resources.
You'll want to start by joining our community here. I'll send you tips, freebies and exclusive deals on the very best teach designed learning activities.
Next you'll want to be sure to watch my free video training called 3 Mistakes to Avoid when Preparing your child for Kindergarten and what to do instead!
It's full of valuable insights that will set you up for success.
Then take a few minutes to browse the resources featured here and choose ones that your child will get excited about.
YOU ARE READY FOR AT HOME PRESCHOOL!
With everything you've just learned, you are ready to make the most of your child's learning experiences during the special preschool years.
Your at home preschool can be every bit as impactful as a traditional preschool.
The first thing you'll want to do is set a learning routine for your child that you'll use on a daily basis.
Print your free kindergarten readiness checklist and use it as a guide.
Then get to learning! I'm cheering for you!
Grab the FREE your Peschool at Home Starter Kit
Includes a teacher designed Kindergarten Readiness Checklist + so many more valuable insights!